Failure Analysis
We are here to assist you in answering all of the above questions related to your product, material, component or structural member failure. We provide comprehensive failure analysis report outlining the root causes of failure along with cost effective practical suggestions and recommendations with the help of which future failures can be avoided.
Failure analysis is a systematic investigation of a failure of a material, product, device or a component or structure under its service condition. It involves scientific application of various engineering principles and methodologies for the investigation. It also involves the study of the end application or service condition of the material or product, mechanism of failure, root cause analysis and laying out practical cost effective solutions to the end user so as to avoid its occurrence in the future.
A thorough and complete failure analysis of any product or material requires deep understanding of that material and its end application. At FAN, our interdisciplinary team with broad industrial experience applies an integrated approach of solving failure analysis projects. Our teams from different departments work closely with each other. They combine their chemical, mechanical and metallurgical expertise coupled with their broad industrial interdisciplinary knowledge to solve your materials problems and deliver rapid, accurate and cost effective solutions to you.
The failure of a material or product could be due to any one or combination of following:
Fatigue Failure
Corrosion Failure
Embrittlement
Wear
Cracking (Stress Corrosion Cracking)
Creep Failure
Environmental Degradtion
Overload
Improper Design / Fabrication
Forensic Engineering or Root Cause Failure Analysis Steps at our lab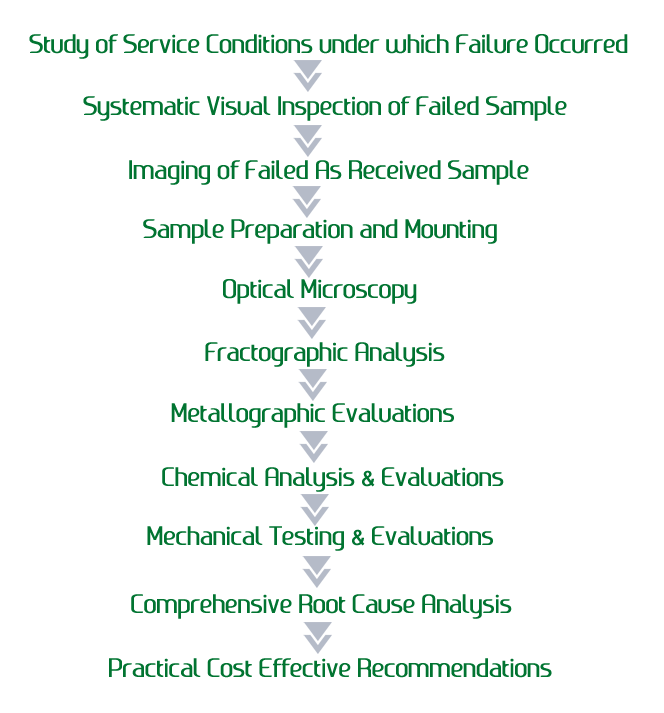 To see how FAN can help your organization for your products and materials testing.